Introducing the...  
Lacrosse goalie training to turn your son/daughter into the absolute best goalie they can be!
The All-Star Goalie Training Bundle is Coach Damon's hand-picked training sessions full of amazing lacrosse goalie lessons from the best of the best goalie coaches and pros to give your youth a full lacrosse goalie education including perfect technique, drills for all situations, mental game lessons, and killer sessions to boost your overall lacrosse IQ!
Before I tell you about this amazing goalie training program, let me tell you who it's really for...
So somehow, someway your kid ended up as the lacrosse goalie. Which means you now you carry the prestigious title of "Lacrosse Goalie Mom" or "Lacrosse Goalie Dad". It's hard a role, no doubt, but you're looking for any and all tools to give your young goalie the right mindset and the right skills to be great in the net! 
Whether you're...
A Lacrosse Goalie Mom or Dad who wants to do everything you can to help your son/daughter become more confident in the goal and support them on the emotional roller coaster that is the goalie position. 
A new coach who knows nothing about the goalie position but is now suddenly in charge of training those little brick walls.
A youth goalie who wants to improve but lives in a non hotbed of lacrosse with very little access to top level goalie coaching talent. 
You're in the right place and I'm going to show you exactly how the All-Star Goalie Training Bundle will give your goalie a team of elite goalie coaches in their corner to give them the tools, the inspiration, and the unparalleled support on their journey to be an All-Star goalie! 
After going through this training,


your goalie will...
Understand all the fundamentals that a young goalie needs to consistently make great saves
Feel completely comfortable clearing the ball 
Master the unique goalie mindset that allows great keepers to stay mentally tough through the goals given up and through the losses 
Know how to communicate with the defense and exactly what to do when they don't listen
Have a drill library of over 50 different goalie drills you can use with your goalie to improve different aspects of their game and always keep things from getting repetitive and boring. 
Know the basics of stringing a lacrosse goalie head to throw exactly how you want
Understand important concepts like: playing the ball at X, pipe to pipe saves, and a high vs. a low arc so you can be a leader of the defense
Have 7 mentors in the form of the Lax Goalie Rat sponsored goalies, 7 of the best goaltenders in men's and women's Division 1 college lacrosse 
Be armed with a set of exercises to help combat those pre-game nerves (or perhaps anxiety) that goalies feel from putting so much pressure on themselves
Know how to mentally recover from a bad goal, a bad half, or even a stretch of bad games!
Have the best lacrosse goalie training resource that exists online to revisit anytime they need additional tips or motivation! 
"I have a 10 year old son who was interested in learning how to play goalie. Our club program doesn't have a goalie coach and I have no idea how to play goalie."
I signed up for the training with Coach Damon. Together with my son we watched all the videos. We found them incredibly easy to follow, helpful, teaching the fundamentals in a simple way. Tons of great drills and mental parts of the game. Damon has really helped my son learn the fundamentals of playing goalie. He's having a great time and playing a lot better. I think this is a great program for parents who have a son or daughter who are trying to learn how to play goalie and don't have the resources to have a goalie coach."
Tim Flynn, Lacrosse Goalie Dad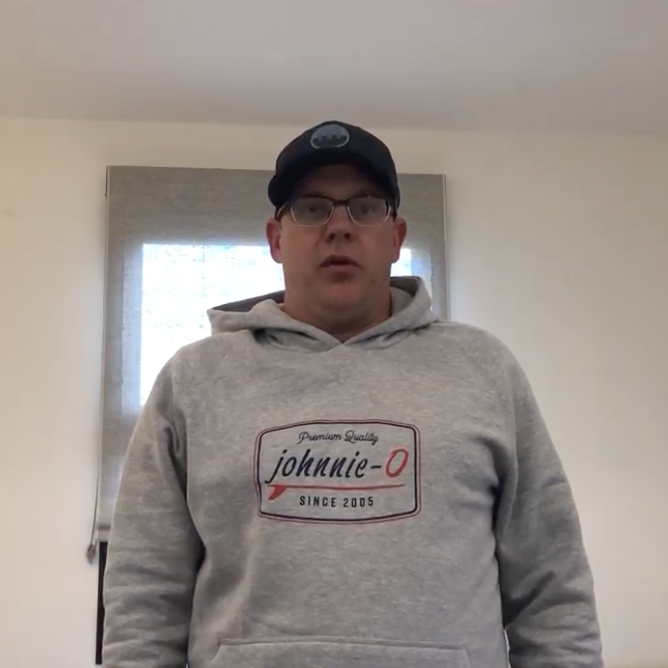 Get the All-Star Goalie Training Bundle Today!
What's Inside The All-Star Goalie Training Bundle
The Tillman Johnson Mini-Camp
In 2003 Tillman Johnson showed the world the power of the goalie position! After his amazing performance, Virginia won the national championship and Tillman was the tournament MVP and goalie of the year! Suddenly everyone wanted to be the goalie! 
Turns out Tillman is not only an elite goalie, he's also an elite goalie coach having trained goalies like PLL All-Star Nick Marrocco and 1st team All-Ivy Princeton grad Tyler Blaisdell. 
For the first time ever, Coach Tillman Johnson recorded a virtual mini-camp that will teach your goalie the exact fundamentals that allowed Tillman to be the GOAT:
Tillman Johnson's Pyramid of Success
Fundamental Technique for each type of save
1 Vs 1 - How to Make Those Game Changing Saves
Clearing Techniques to Clear with Confidence
Communication to Lead Your Defense
Big Eyes - Tillman's Special Technique For Intense Focus
Pre-game Preparation and Getting in the Zone
Tillman's Drills to further develop your Muscle Memory
Pipe to Pipe Play
Playing the Ball Behind
Rebound Control
The College Goalie Training Packs
Last year the NCAA said their athletes could now accept sponsorships! So I immediately went out and sponsored 7 different Division 1 college goalies (4 guys and 3 girls) to an NIL sponsorship deal.
Together we created an amazing goalie training packs where these amazing young men and women teach your youth goalie everything they know! This is learning from the best! Look at these accolades: 
Emily Sterling, Maryland - 2022 Goalie of the Year
Owen McElroy. Georgetown - 2021 and 2022 Goalie of the Year, drafted by the Chrome into the PLL
Brett Dobson, St. Bonaventure - 2022 2nd team All-American, 1st goalie selected by the PLL Archers
Madison Doucette, Northwestern - Team USA goalie
Sophia LeRose, Duke - 2x Defensive Player of the Week
Jack Thompson, Denver - 2nd team All Big East
Will Mark, LIU - 2x NEC Defensive Player of the Year 
Each collegiate goalie's training pack comes with the following coaching to level up your youth's game: 
Virtual Coaching Session to dig deep into a specific area of the goalie position
Instructional Video Series with Drills/Technique 
Live Q&A to answer young goalie's questions
Save breakdown to understand what's going through their head during the games
Access to DM these goalies with questions or looking for tips
The best part: proceeds go directly to financially support these college kids! Coaching directly from the best college goalies and helping them financially - talk about a win-win! 
Best of the Lacrosse Goalie Summit
The Lacrosse Goalie Summit is a virtual event I've run 6 times now! The concept is simple - invite the best coaches and pro goalies to give virtual coaching sessions on different aspects of the position that youth goalies need know to be great!
As anyone who attended can attest to, the results have been absolutely awesome! I've seriously learned something new and amazing from every session! For this training, Coach Damon has hand-picked the 34 best coaching sessions from across the 6 different events.
It features elite coaches like: Goaliesmith, Kyle Bernlohr, Sean Quirk, Brian Phipps, Asa Goldstock, Liz Hogan, Ted Bergman, Scotty Rodgers, Jack Runkel, Meg Taylor, and on and on....
They're split into 4 categories -
Technical/Fundamentals
Mental Game
Lacrosse IQ/General Coaching
Drills
Here is the full list of goalie coaching sessions your youth goalie can learn from: 
Technique:
Goaliesmith - Set & See It, Read 'Em and Beat 'Em
Goaliesmith - Inside Shots: A Training Breakdown for Coaches & Goalies
Drake Porter - Saving Shots on the Run
Drake Porter - Common Youth Goalie Mistakes + How to Fix Them
Sean Quirk - Live from the Field: Ready Position, Shading, Baiting
Ted Bergman - Bottom Hand Save Technique
Ted Bergman - Toy Soldier Goaltending
Sean Quirk - Playing the Ball Behind (Live Field Demo)
Mental Game:
Amber Hill - Lacrosse Origins, Your Mental Health, and Believing in Yourself
Lyndsey Muñoz - Mastering Your Mind
Greg Klym - Mindfulness for Lacrosse Goalies
Scotty Rodgers - Mindset and Motivation for Lacrosse Goalies
Jack Runkel - How to Break out of a Slump
Kris Alleyne - The Goalie Mindset
Dr. Rob Bell - Not About the Setback, About the Comeback
Jack Starr - The Reset Routine
Alyssa Rex - Mental Success for Lacrosse Goalies
General Coaching + Lacrosse IQ:
Simon Bellamy - The Lacrosse Goalie Training Triangle
Asa Goldstock - The Clearing Game
Ted Bergman - Clearing with Confidence
Meg Taylor - The Lacrosse Goalie Warmup
Jack Runkel - Lacrosse Goalie Communication
Alex Ready - My Approach to Goalie Coaching
Parker Fairey - My Goalie Training Philosophy
Coach John Galloway - Big Picture Mentality: The Goalie Position Outside the Crease
Drills:
Devon Wills - Developing Youth Goalies
NDV Performance - Eye-Mind-Body Integration Training
Caylee Waters - Footwork Drills and Other Drills to do Alone
Kyle Bernlohr - Building the Complete Lacrosse Goalie (as told through clinic format)
Brian Phipps - Goalie Island: Drills to Do All Alone
Justin Kieffer - Situational Lacrosse Goalie Training + Drills
Jay Fulco - Drills to improve Hand eye coordination and reaction time
Mo Spellman - Lacrosse Goalie Drills for Balance, Speed, and Agility
Breakout Goaltending - Bands, Buckets, and Boxing: Lacrosse Goalie drills for All
Best of the Lax Goalie Rat Academy

The Lax Goalie Rat Academy is my private membership site full of amazing goalie training content that I've put together with college kids out at the field and inside the classroom.
In this training I hand-pick the very best lesson from inside the Academy. Coach Damon (me!) teaches you fundamental like: Stance, Positioning, Save Movement, Arc Play and Moving on the Arc.
You will also learn additional topics like Clearing, Dodging, Stick Stringing.
Finally you get access to the "Drill Library"! With over 55 drills to level up your youth goalie's game and always keep things fresh and interesting! 
Here's the full list of coaching sessions you'll get access to: 
So here's everything you get:
Value: $599
Value: $1399
Value: $3399
Value: $399
That's $5,797 in total value!
Get the All-Star Goalie Training Bundle Today!
A small sample of the brick walls who leveled up their goalie game with this training!
I coach our high school girls lacrosse goalies and have implemented the info I learned from Coach Damon's videos. The outcomes have been amazing!  Our goalies have pretty much eliminated "shooter bias" (girls they think are going to score on them) and are now using visualization exercises to improve their technique. So glad this has become the year of our "mental game" improvement - thanks!!
Chuck Dulde
High School Girls Lacrosse Coach
Milwaukee, WI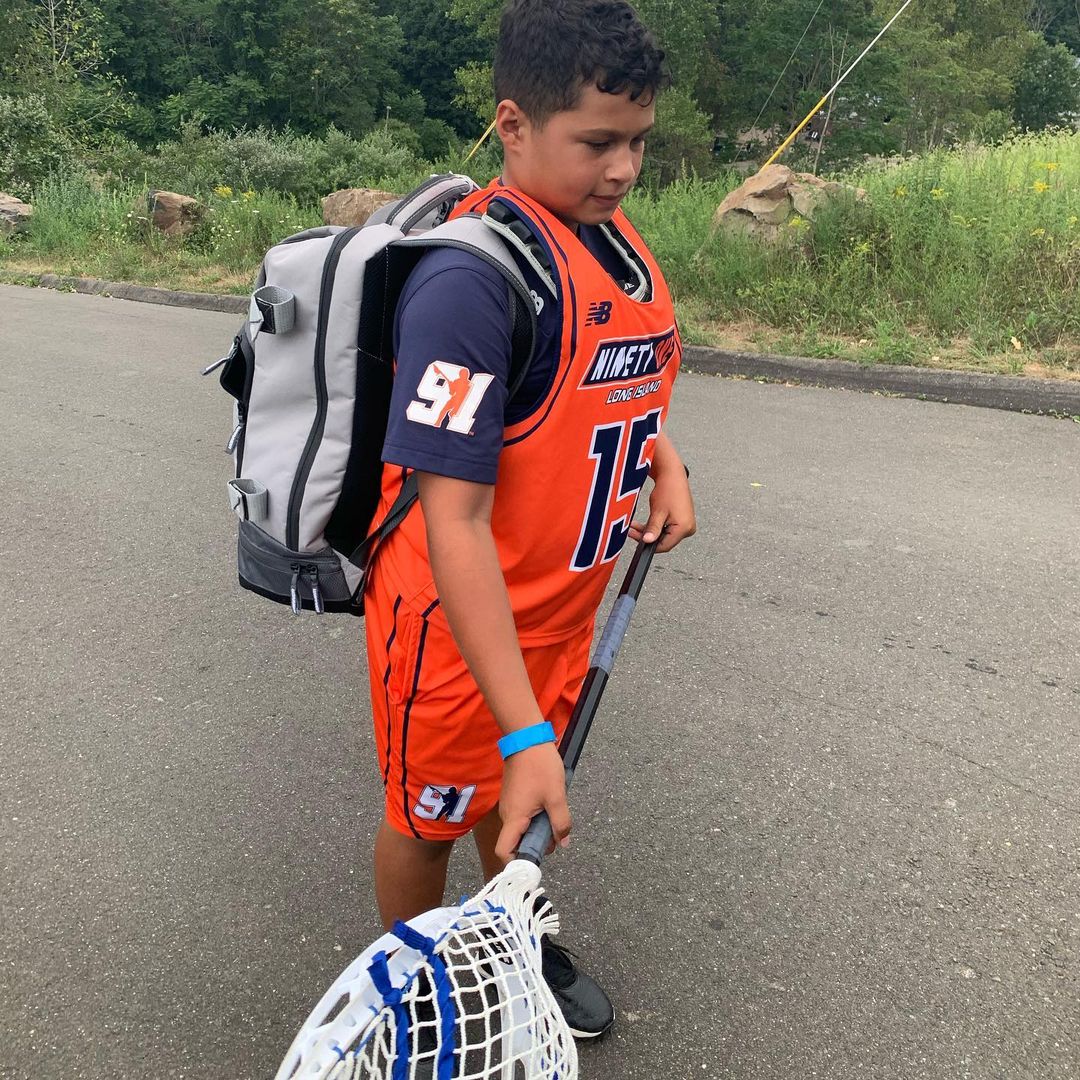 3 weeks ago I knew nothing about how to train my son to become a goalie. He played midfield and defense for the past 4 years but when the team needed a goalie, he stepped up! I binged watched all the videos over and over and now here were are 3 weeks later and my 9 year old is already a brick wall out there! Thanks so much for this training Coach Damon, helped out more than you can imagine!
Chris "The Cannon" Wagner
Lacrosse Goalie Dad
Long Island, New York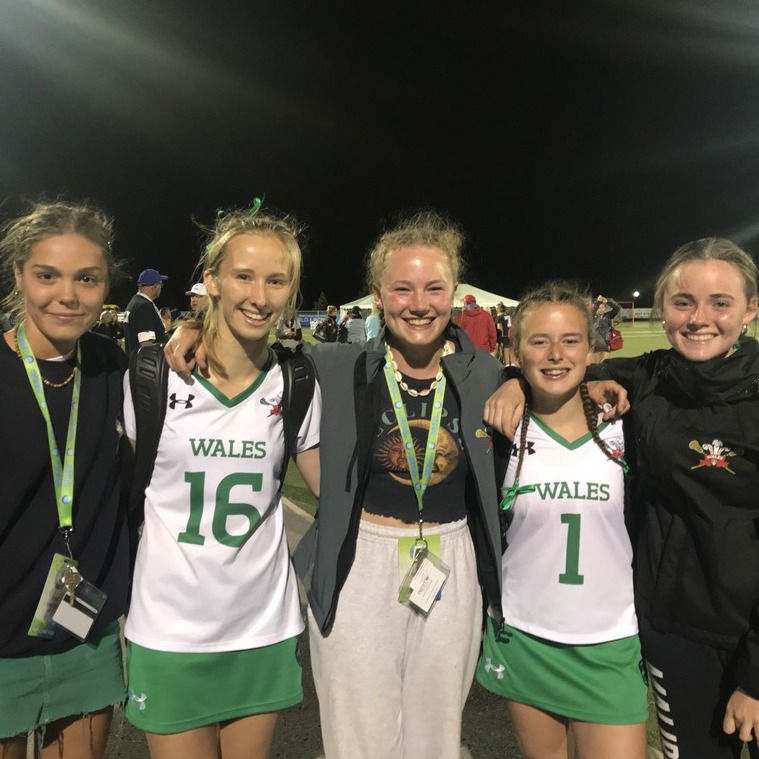 After a bad practice or game I used to always beat myself up and feel really bad for the next training session/game, but now with access to the mental toughness training with Coach Damon I am a completely different goalie as I go into every game and training session with a different attitude than before.
Olivia Armstrong
16 yr. old Goalie
England, UK
Holy s$*!#! Tillman Johnson! What a great presenter and amazing information for all goalies! I've got pages and pages of notes. That's one of your top 3 videos for sure. Lauren's pumped to start using his drills and warm up process Monday in our first outside practice of the season. Great job!
Jamie Jones
Lacrosse Goalie Dad
Westerville, OH

Coach Damon, the training you give to the goalie world are immeasurable. The advances I have seen my daughter and other goalies I have introduced to your teachings are amazing. Thank you for your passion to this often times overlooked and under coached position!
Len Bonalsky
Lacrosse Goalie Dad
Madison, CT

The detailed attention to all aspects of goalie play allows me to confidently and effectively coach the three goalies on my team.  Coach Damon agrees that conquering mental challenges ultimately define which goalie develops into an exceptional talent or who is best described as merely good.  The goalies play at a much higher level and each receive compliments from other coaches for the boys' ability to overcome adversity during the game.
Daniel Weiss
Lacrosse Goalie Dad / Coach
Avon, CT

We got your back with a 15 day no risk-free guarantee!
This training has the power to take your goalie's game to a whole new level! That's not hyperbole — that's based on real results these goalie coaches have gotten with their students. 
But if you feel like you don't get value from the training, email Coach Damon and Team Lax Goalie Rat (help@laxgoalierat.com) within 15 days and we'll give you a no hassle refund.
The best part is this:
If you think there's even a 'slight chance' that this All-Star Goalie Training Bundle could help out your son or daughter, you should join! 
No guess work needed. Take the training, see for yourself.
And if it works, your goalie will never be the same.
Your goalie will be able to confidently walk onto the field for practice or games, knowing they've taken training from the best college and pro goalies in the game!
So that's why we're happy to offer a 15-day money back guarantee. It's really a no-brainer.
Frequently Asked Questions
These are some of the questions the lacrosse goalie moms/dads/coaches frequently ask me: 
Is this bundle good for a new coach recently assigned to work with the goalies?
Absolutely yes! In the Best of the Lacrosse Goalie Summits a few coaches give general "how to coach the goalies" overviews. From there you can dig into the technique videos to teach fundamentals. Then you full drill library to always keep the training fresh! 
Is it possible to learn lacrosse goalie from online video training?
Listen there is no substitute for live shots. You still need to go out to the field and do the work. But you absolutely can learn a ton via these virtual coaching sessions that will improve your game once you get out on the field! 
Is it really a no risk hassle free guarentee?
Yep! Absolutely. I stand behind my work and the effort that all these goalie coaches put into their sessions. But if you're not satisfied, shoot us an email (help@laxgoalierat.com) and we'll get you taken care of. 
What age group is this for?
Youth and high school goalies will benefit the most from this training. However if there is a college goalie who like me, is just switching to the position then you'll absolutely learn a ton of amazing info too!
Is this training for boys or girls goalies?
Both! First of all - the training features both the best male and female coaches. Second, while the game of boys and girls lacrosse is very different, the way the goalies make saves is identical. So boys can learn from the female coaches and girls can learn from the male coaches! 
Price seems a little low for all the value included, no?
It absolutely is. I thought about pricing it higher but I'd rather get this goalie training into more goalie's hands so they can feel confident out there!
How long to do we get access to these videos for?
Don't see your question here?
Email me - damon@laxgoalierat.com
Let me ask you a question!
Imagine this scenario. All game long you're seeing beach balls! You're playing with so much confidence, having tons of fun, and making save after save!
Inside shot - save!
Outside shot - save!
1x1 - save!!
You let in some goals yeah but they don't bother you because you're having so much fun you don't even realize how great you're playing!
As the final whistle blows, your teammates come sprinting onto the field right at you and when they arrive they mob you with a huge hug: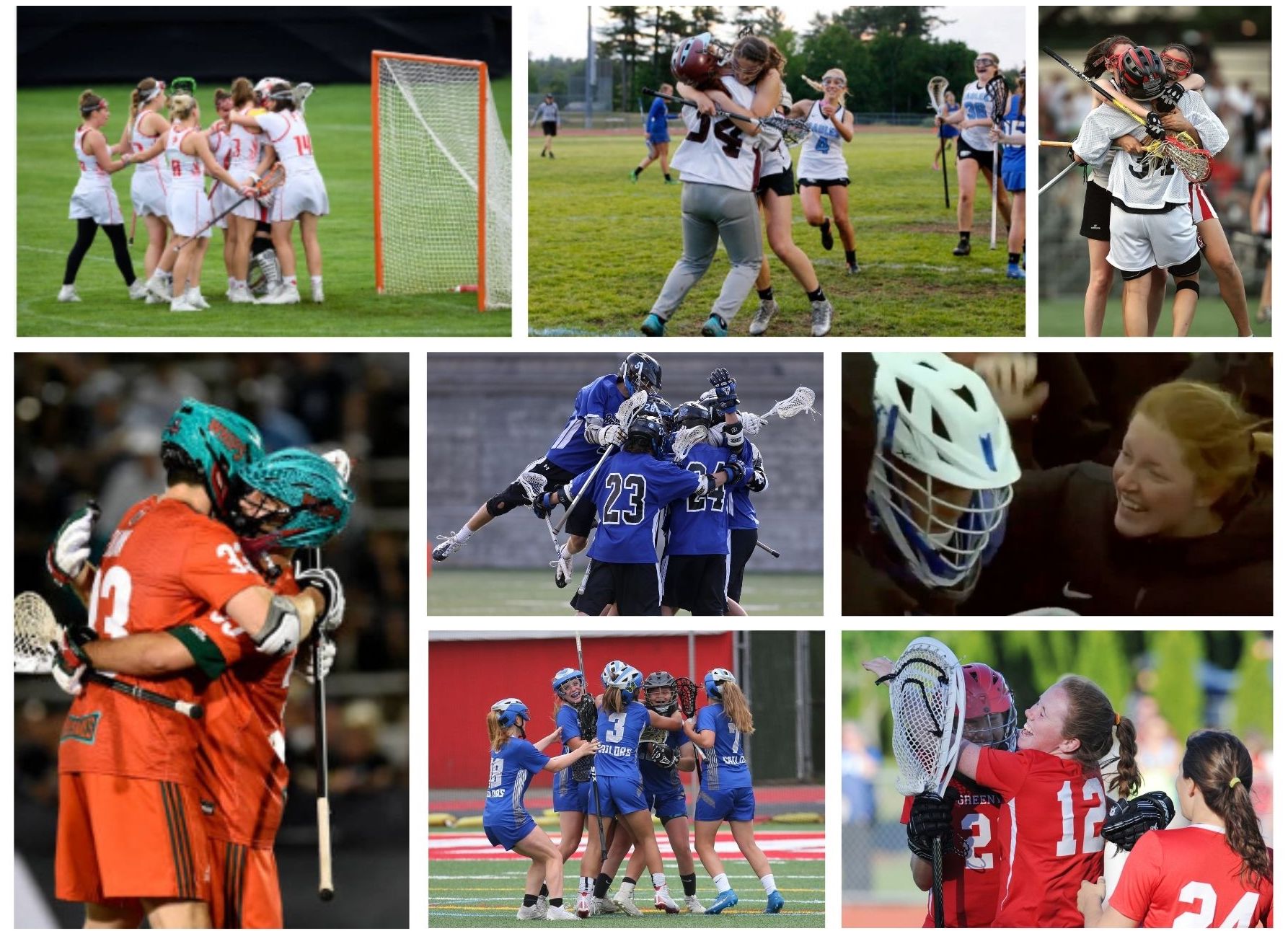 Has that ever happened to you? I sure hope so! It's one of best feelings for us lacrosse goalies.
Well maybe you've been lucky enough to feel this during one game!
But what if you could consistently create this feeling? 
...
I'll be honest when I first started out as a goalie I struggled. And it was tough. It was tough physically, it was tough mentally. So I know the hardships goalies can face.
But I also know when things started to click for me, the entire game changed!
I had a new love for lacrosse and I fell in love with the goalie position. A position that I'm still just as passionate about 20 years later. 
The goalie position went neglected for too long and with this training bundle we aim to fix that!
If I've learned one thing during my career of coaching goalies, it's this -
The lacrosse goalie community is very small and very caring! Whenever a goalie enters into the community, they love to help out the next generation of goalies. Grow the game by teaching the youth goalies how it's done! 
That's why we're able to get pro goalies and the best coaches in the sport to help out your youth goalie. 
To help your son or daughter be the recipient of those game ending hugs and to make themselves, their teammates and YOU oh so proud! 
I look forward to meeting you on the inside of the All-Star Goalie Training Bundle!
Goalies rule!
Coach Damon
"Coach Damon is an amazing resource for young goalies and parents of goalies."

Too often the youth goalie position is overlooked from a coaching standpoint. I played attack in college and my son decided to play goalie at a very early age. After watching one season, with no goalie coaching, I decided to get involved as a coach but needed to learn the position fundamentals in order to add value.  This training became my education on the position enabling me to not only coach my son but other goalies as well. Thank you Coach Damon!

Brian Wilson
Lacrosse Goalie Dad
Get the All-Star Goalie Training Bundle Today!